Australia did not just stroll into the final round of qualification for the FIFA 2018 World Cup, but leaped, Tim Cahill-like, from the second stage to the third.
Caltex Socceroos thrash Redknapp's Jordan
Jordan was dispatched with impressive ruthlessness in Sydney and long before the game had ended, thoughts could turn to just who the Caltex Socceroos may have to face in the next round.
There, the pressure really will be on as the twelve teams, split into two groups and drawn in Kuala Lumpur on April 12, will be competing for the Asian Football Confederation's four automatic spots.
Who will the Caltex Socceroos face in the WC Qualifiers?
Given FIFA's current rankings, Australia will be placed in the top pot, along with Iran and that is unlikely to change when the new standings are released on April 7.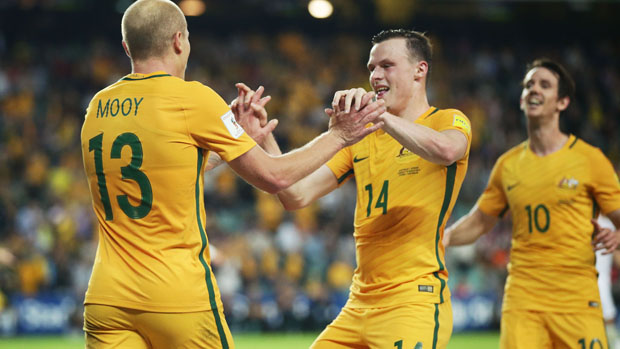 If so, a rematch of that infamous 1997 playoff will not be on the cards, however fans down under would welcome a chance to take on Team Melli with plenty at stake.
That means either Japan or South Korea – with the excitement that would bring – could meet the Aussies.
Either another episode in the rivalry with the Samurai Blue or a replay of the 2015 AFC Asian Cup final with the red-hot Taeguk Warriors.
Uli Stielike's men won all seven of their games, scoring 24 and not conceding a single goal and are feeling full of confidence.
Japan also didn't concede one single strike with the only blemish being a 0-0 draw at home to Singapore (it was one of those nights when the ball simply would not go in).
Just as exciting would be China. I was in Xian to see Team Dragon squeeze through into the final round with a 2-0 win over Qatar.
50,000 fans smoked and screamed and in the end, Huang Bowen and Wu Lei ended a tense night.
It wasn't the most dominant of performances but no team will relish going to a passionate place like the ancient capital.
Or it could be Saudi Arabia under Bert Van Marwijk who took first place in a tricky Group A with a 1-1 draw against United Arab Emirates in Abu Dhabi.
The visitors' goal was a very well-taken effort by Mohammed Al-Sahlawi, his 14th, yes 14th, of the stage.
After the 2014 AFC Champions League final, there are plenty in the country who would love the chance to return to Australia.
UAE made it too with a certain Omar Abdulrahman getting the equaliser. A rematch of the 2015 AFC Asian Cup semi-final with the talented Emirates is one of for the purists.
Or perhaps there is Syria. A team that can't play at home for security reasons but finished second behind Japan and have crafted quite a story.
Iraq is another that does not have its own soccer home and the 2007 continental champions left it late to overcome Vietnam and book its spot.
The closest geographically would be Thailand.
A trip to Bangkok to take on the improving War Elephants is a possibility. Under coach Kiatisuk 'Zico' Senamuang, the Thais are playing their own brand of tiki-taka and will be flying the flag for Southeast Asia.
Uzbekistan and Qatar are also in the mix and also reached the last stage with little fuss, losing just the one game each. Both are desperate for a first appearance at the World Cup.
It is going to be tough, rough and long. Just the way it should be.
© 2016 Football Federation Australia (FFA) | This article was written by Johnny Duerden and first appeared in FFA on 30 March 2016.