Australia arrived in early July allowing over a month of solid preparation in Brazil ahead of their group matches at the Games.
That fact along with the attacking options at coach Alen Stajcic's disposal has "Bubs" dreaming big for Australia's women.
"The team is strongest with their front line – I mean Sam Kerr is not up to 90 minutes but what an impact player she will be and also the interchangeability of Kyah [Simon] and Michelle [Heyman]," she said.
"The versatility of players too: Larissa Crummer – right back or forward,  Ellie Carpenter, centre mid or centre back and any number of players who can play anywhere.
"This team doesn't have weaknesses really – just really got to make sure we keep everyone fit and healthy.
"In some positions we only have one player that could do the job that needs to be done at a level that can be produce a medal."
And Australia's coaching team is doing absolutely everything in its power to win a medal – Barbieri noting this is a better preparation than any previous campaign with the Green and Gold arriving two weeks ago into Brazil.
"Honestly this is the most critical part," she said of the month lead in.
"I look at some countries and they aren't even in camp yet – I have seen this from our teams in the past and I don't think it's been good enough to go all the way.
"So this will be critical especially in Staj's mind and thinking that he has done everything in his power to be in medal contention and then he can just allow the girls to do the job.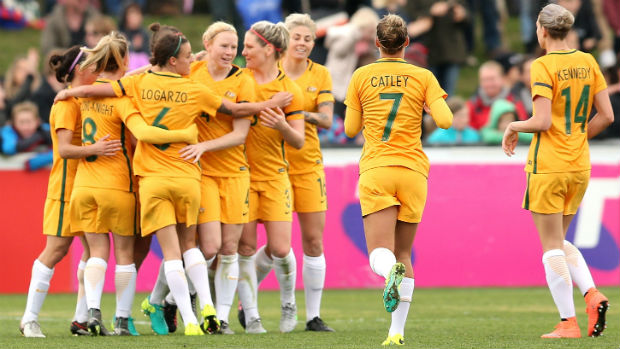 "Because the tournament numbers of teams are so low – it's a very real chance to win a medal"
But at such an iconic event, the 36-year-old 86-capped great – who captained Australia to its historic Asian Cup win in 2010 and has played at four World Cups – hopes the players will take it all in.
"There is a time and a place to be solely focused on playing, training and games.
"But for all the bits that you can just stop and look around and smile.
"Remember the feelings and the sounds and how it is making you feel because the tournament will fly past and you wish you had of stopped every now and then and smelt the roses."
© 2016 Football Federation Australia | This article was written by Aidan Ormond and first appeared on the Football Federation Australia website on 19 July 2016.