When Herbalife celebrated its 35th anniversary last year at the Los Angeles Convention Center, the company surprised the crowd by having a video chat on a giant screen with Real Madrid star Cristiano Ronaldo. "Hello, Herbalife," said one of soccer's biggest names, giving a wave that elicited a roar from the audience. "I want to wish you all the best and congratulations. I think it's unbelievable."
Ronaldo, who's been a paid endorser of Herbalife since 2013, is key to Chief Executive Officer Michael Johnson's strategy to maintain growth and beat back allegations that the company is a pyramid scheme. Johnson aims to transform the multilevel marketing company focused on weight-loss products into a global sports-performance brand—with energy drinks, Ronaldo-branded supplements, and a leaf-shaped logo he hopes will become as recognizable as Nike's swoosh. Herbalife declined to comment for this story.
The sports push, which has included soccer stars David Beckham and Lionel Messi as endorsers, has helped the company expand beyond the U.S. into soccer-obsessed Latin America and Europe, despite a whirlwind of bad press about its business model. "If you see Herbalife on David Beckham's shirt, that makes you believe it is something credible and legitimate—something you can trust," says Andrew Holland, engagement manager for brand strategy consultant Vivaldi Partners Group.
Hedge fund manager Bill Ackman has spent three years and more than $50 million trying to convince investors that the company is an illegal pyramid scheme. Ackman's campaign, which he began after betting $1 billion against Herbalife's stock, has been beaten back by not only the company's vigorous denials of the allegations but also the credibility of its brand ambassadors. Herbalife has endorsement deals with 40 teams and 80 athletes, and its popularity has helped it keep recruiting people to resell its teas and vitamins. It's added 800,000 so-called distributors since Ackman began making his allegations in December 2012, lifting the total to 4 million at the end of 2015.
Ronaldo, with more than 100 million followers on social media, is a potent weapon. Before Ronaldo, Herbalife featured Messi, arguably the biggest star of the world's most popular sport, and for five years had its name emblazoned on Beckham's Los Angeles Galaxy jersey.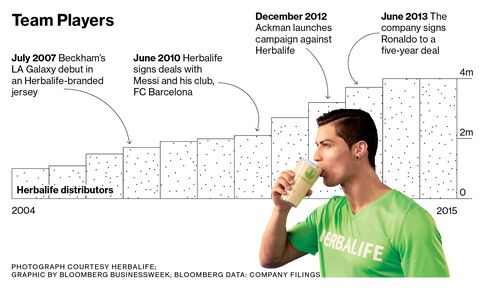 Today Herbalife's endorsement deals include an Indian cricketer and a Malaysian squash player. There's an Israeli women's basketball team bearing its name—Herbalife Ramat HaSharon—an off-road racing squad from Peru, and handball players in France. All this marketing comes at the relatively skimpy cost of only about 1.5 percent of its $4.47 billion in sales last year. Consumer giants Nike and Procter & Gamble dedicate about 10 percent of revenue to marketing.
Ackman has complained that Herbalife's success can be attributed to consumers seeing it as a legitimate enterprise because of its relationship with Ronaldo, Messi, and other public figures it's employed, including former Secretary of State Madeleine Albright and Antonio Villaraigosa, former mayor of Los Angeles. "The best pyramid schemes try to recruit credible people to give them credibility," Ackman said during a 2014 presentation in which he claimed Herbalife nutrition clubs run by distributors were a ruse to bleed money from poor consumers. Herbalife has defended the clubs.
Yet Herbalife's endorsements mimic what brands have been doing for decades to connect with consumers. It's targeting people in more than 90 nations, with a focus on Latin America. Other soccer deals include top clubs Barcelona, Mexico's Pumas, and Brazil's Santos FC (former team of the legendary Pelé). Spokesmen for Ronaldo, Messi, Villaraigosa, and the LA Galaxy didn't respond to requests for comment. A representative for Albright's consulting firm, Albright Stonebridge Group, declined to comment.
During Beckham's 2007-12 Galaxy tenure, Herbalife's sales doubled. Its distributor ranks also rose to 3.2 million from 1.5 million, with huge gains coming from soccer-loving nations. Explained Johnson in a 2007 investor call: "Adidas produced more than 600,000 Galaxy jerseys in its initial run, and everyone in every one of those is a mobile Herbalife billboard." Apparently Ackman wasn't listening in.
© 2016 Bloomberg| This article was written by Matthew Townsend and first appeared on Bloomberg Businessweek on 22 April 2016.